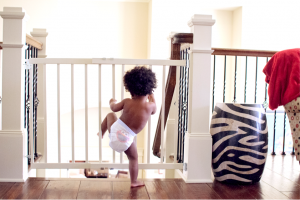 It doesn't seem so long ago when we Baby Boomers were childproofing our homes. Even before the first baby arrived, friends and older siblings advised us which hazards to watch for, and gave us baskets of electrical outlet covers and table-corner pads as shower gifts. Once baby was in motion, we put gates across the tops and bottoms of staircases to prevent falls; we clicked plastic locks into place on kitchen doors and drawers (and toilet seats!) to prevent injuries caused by inquisitive little hands.
Fortunately, most children survive the daily danger of living in a grown-up environment, because we plan ahead.
Now, the tables are turning. The homes we once so thoroughly childproofed may now need to be age-proofed. Family homes can hold surprises, even hazards, as we age. And unless we understand and prepare our houses to match the way older bodies interact with the immediate environment, we may not be able to stay in our homes for as long as we would like.
Remodeling homes for aging-in-place involves construction principles for barrier-free living, according to the National Association of Home Builders. These principles involve remodeling existing homes or designing new ones to create a safe, comfortable, flexible environment in which to live independently, no matter your age or physical abilities.
Redesigning to accommodate typical changes that happen with aging includes items such as increasing indoor lighting to compensate for dimming eyesight; changing faucet handles and doorknobs to levers, which are easier to manipulate with arthritic hands; moving trip hazards such as electrical cords and scatter-rugs; adding handrails at existing steps; installing grab-bars in the bathroom, and additional considerations.
More extensive remodels can better remove barriers to easy movement, and may include creating at least one step-free entryway to the home; building safer and more accessible bathrooms; reconfiguring kitchen appliances and cabinets for ease of reach; widening hallways and doorways to make room for the possibility of walkers and wheelchairs; and ideally creating one-story living or at least first-floor access to sleeping, eating and bathroom facilities.
Baby Boomers are economically prepared to remodel our homes. The 2016 Houzz & Home Report released June 22 by design site Houzz revealed that people 55+ spend more to remodel their homes than other age groups, and are the least likely to pay for renovations with credit cards.
Research from AARP tells us that nearly 90% of people over age 65 want to live in their homes for as long as possible. But only 15% of people under 65 plan for aging-in-place – the rest wait until a health crisis forces decisions.
We were all planners at one time, at least when it came to protecting our children. Now it's time to plan again, to be able to age safely and independently in our own homes – and maybe even to protect our grown children from having to scramble to plan for us, when we reach a crisis.
As the old adage goes, something happens to all of us if we live long enough. You can plan on it.